Visit us on Aquatech Amsterdam 2019 | 5-9 November 2019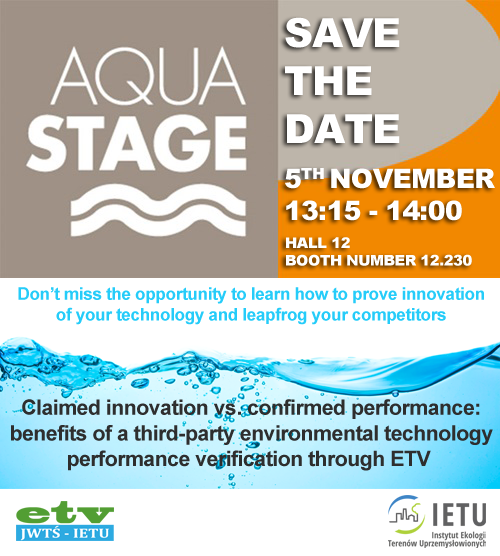 For the second time the Environmental Technology Verification Body at the Institute for Ecology of Industrial Areas will be one of the exhibitors at the Aquatech Amsterdam 2019 Trade Exhibition.
We will present our service of innovative technology verification under the EU Environmental Technology Verification Programme (EU ETV) for water and wastewater sector, as well as for the newly opened area of materials, waste and resources.
On the first day of the trade fair Izabela Ratman-Kłosińska - Head of the ETV Body-IETU will give a presentation: Claimed innovation vs. confirmed performance: benefits of a third-party environmental technology performance verification through ETV (5 November 2019 at 1:15 pm. - AquaStage, hall 12, stand 12.230).
See you at our stand No. 02.418.